Please Read Before Calling Us
If You Cannot or will not read our very important info here FAQs, Please do not try to purchase our birds.
We will ask you, HAVE YOU READ THE FAQs? Do You Understand the information?
Bird Prices are non negotiable- we normally are always over sold ..Our high quality birds are in demand.
***We RESERVE The right to stop or REFUSE sale to anyone we feel is unqualified to own one of our birds.
If you are unable or unwilling to read our FAQ page and other educational info and understand it completely, then please do not try to talk to us about purchasing a bird.
CONTACT 704-735-8601 SERIOUS INQUIRIES PLEASE,, We love our birds but we are very very busy and we are not a pet shop, as we operate a fully productive breeding operation, and a research facility and endangered species programs as well breeding over 100 babies yearly and it requires lots of work hours. We just do not have the time to discuss birds that we may not have available now or to talk about a bird that you may be considering in the distant future and we just do not have time to discuss a bird that you have purchased somewhere else, you would need to talk to a vet if its a medical question and a bird trainer if its a behavior problem..
We will be glad to discuss with you any bird that is AVAILABLE NOW and you are NOW ready for a new family member.
EMAIL: royalbirdcompany@bellsouth.net
SHIPPING QUESTIONS--Can you ship me a bird? Is it safe? How do you ship it?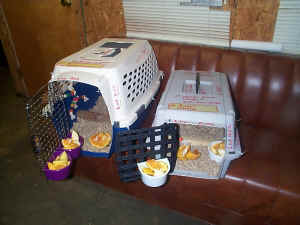 We use modified reusable pet taxis for the shipping container like the ones pictured above.. We include all health papers if needed by airlines, reusable modified pet taxi shipping container, free starter kit with food, treat, etc. EVERYTHING IS INCLUDED for you.
WE DO NOT CHARGE FOR SHIPPING CONTAINERS, THIS IS INCLUDED IN ALL OUR BIRD PRICES...$35-50 value.
TEMPS ABOVE 85F DEGREES AND BELOW 45F ARE NOT ACCEPTABLE. Airlines will accept live birds between these temps. The temps must be acceptable at every connect point, start to delivery. For example:: If the temp at the our airport is 75 but at your airport its above 85, the airlines will not accept the shipment. Most airlines connect in Atlanta GA, so the temp there must also be acceptable.
We make the arrangements for times for the well being and safety of the birds, NOT for times that are convenient for you. We cannot guarantee that a bird can be shipped on a certain flight to get there at a time that is good for you. Everything will be for the best for the birds, or NO SALE.
We will talk with you and try to get something good for you and us We will inform you the flight times before any birds are shipped.

We are USDA SAFE ANIMAL SHIPPERS APPROVED

ALL SHIPMENTS ARE INSURED THE FULL VALUE
Are your birds guaranteed?
YES, absolutely! our birds are 100% guaranteed healthy at the time of arrival if being shipped. If you pick your bird up here its guaranteed to be 100% healthy at time of purchase or take home. All our babies are DNA screened for Chlamydia and all Cockatoos are DNA screened for PBFD and each comes with all testing results and certificates from the labs. ALL this is included with our birds, FREE. Your guarantee is simple, Since we do not know what you are going to do once you get the bird we have no control on the birds health after a certain time, as many things can change the health quickly based on what you do, or not do, and we do not know what you are doing at home, SO, you must take your bird to a REAL Avian Vet within 24-48 hours after receipt. If there is a problem that is not linked to something you did, we will take the bird back, and refund your money, we need the written report from the VET and their info. You will be refunded once we receive the bird back. Its that simple. In over 35 years we have NEVER had even one problem with a bird we sold or shipped, we contribute that to our strict protocols and our birds are just healthy birds period. And since are only selling what we raise, we have full control from the start. we do not purchase birds for resell, we are not dealers. we do not purchase other breeders problems...
Our babies are 100% health guaranteed to be free of any problems at time of sale and or receipt by you, we cannot guarantee the life or health of a bird for certain any length time, they are not cars, they a living breathing beings. Can you guarantee your health and or life for any certain time. You may be healthy now, but you can change that quickly by your actions.
Each baby is monitored and maintained in state of the art brooding systems with air filtration. We use Human baby Neonatal Isolettes in the first stages of the brooding process.
All our breeders are maintained on the highest quality formulated diets, we use tropican by Hagen, sprouts, advanced formulated diets, cooked rice, corn, beans, veggies and fruits in season,etc.
Our breeding facility is a closed facility, we normally do not purchase birds for breeding and we never purchase for resell. As a preventive measure strangers are not allowed in or around the breeding farm or the breeding units. We operate a closed facility, meaning we do not add outside birds to our breeding collection and we do not allow outsiders to enter any area where our breeders are. All babies are maintained in weaning cages behind glass barriers for viewing but not touching by everyone coming around. This protects our birds from poking and proding like you see in open pet shops that have their birds on open display for ALL to touch, this is very dangerous and its where the problems start. If you can touch it, then anyone, everyone else can as well. What does these people have on their hands, do they have sick birds at home, etc. We do not purchase or bring in strange birds into our facilities. We do not purchase birds for resell we ONLY sell what we produce. All babies are monitored and routinely tested for yeast and bacterial problems while in our nursery... All these procedures are preventive and helps us maintain and deliver you a extremely healthy baby. However, You have the right, and we encourage within 48 hours of receipt to have your bird examined by a avian veterinarian and if there is any problem, any problem, we will replace the bird or refund your money. Failure to have the bird examined within the 48 hour period is your choice and we are not liable for anything after that. Due to many factors, we must put a time limit on this as we are talking about a living breathing bird and many things can go wrong in a short time. We do not know how you are treating the bird, we do not know what or if the bird will be exposed to any thing that might bring on some sort of problem, we do not know what type other birds if any are or have been in your home..We do not know if you have visited bird shows, visited pet shops, played with others birds, etc. These places are breeding grounds for substandard birds with many many possible bacterial, viral problems. Having the bird checked out protects you and us as well. Its your choice. Due to our preventive measures In over 30 years we have not had any problems. We are not hobbyist back yard breeders with other jobs, we are professional aviculturists and this is all we do, so we do not cut corners and we do not just deal with our birds on our spare time, our professional aviculture ventures make sure we have no spare time.
How much is a deposit for a baby bird when available.
We no longer offer very young babies and accept deposits and try to deal with that throughout the weeks or even months before a bird is ready to go home... However you can put your name on a contact list and we will send you an email when babies are almost ready to go.But this is not a reserve list, only a contact to announce when birds are coming available. We only offer the birds when they are almost ready to go or ready to go. The contact list is not a reserve or hold list, simply a list of customers who wish to receive our info on available babies. Also sign up for the newsletter on the front page. www.royalbirdcompany.com

Also ALL birds that are posted as available now are for sale and will remain for sale until SOLD and paid for.
Can you tell me the sex of my baby bird?
Yes, We DNA sex all our babies as well screen for health conditions. We just take a little blood from the toenail and send it to our lab, AVIAN BIO..You also get a certificate from the lab.

**Note

*SPECIAL**** FREE DNA sexing and health screening for our ALL babies.
PAYMENTS-------How do I get a payment to you?
THESE ARE OUR TERMS
Our birds are priced for cash and carry.
How you get payment to us is your choice.
Credit card use takes away from what we expect to get for our birds. We could just increase the bird prices to cover this but would not be fair to the ones that pay other ways, RIGHT?
Credit card companies take huge fees and processing charges, so on every 1000 they take almost $50 in the end, So if you need to use a credit card When we do accept credit cards be prepared to pay the 5% processing fees. your discount is when you use any other method as there is no processing fees.
For birds being shipped,You can use bank cashiers checks, bank money orders or personal checks, however ALL these methods require up to 7 -10 days or more to completely clear, even cashiers checks are not cash, they still have to clear.
You can call us for payments and for updated available bird info, as what may be available right now, may not be available within the next hour.
POSTAL MONEY ORDER through the US Post office is the fastest and best, we offer incentives for our customers to use the postal money order program through the US Post Offices, postal money orders are safe, insured, and traceable through the US Postal Service, when our customers use postal money orders for payment, we will add extras in the starter kit for your bird. We can email you a complete instruction sheet on how to obtain postal money orders from your POST OFFICE.
You can contact us for details, we are happy to help you.
Many people may be nervous when dealing with companies they do not know, Royal Bird Company is owned and operated by Mike and Sheila Richard, both published authors and leaders in the avian community for 35 years, We have been in business for over 35 years, same address, same LANDLINE business name phone number for over 35 years, we own a 19 acre compound totally focused on research and breeding rare and common species, we are not going anywhere, we are one of the longest running professional facilities in the USA. We are not just internet, we actually own a real place of business, brick and mortar, we have many references..
ALL North Carolina sales are subject to 6.5% sales tax. shipped or picked up. shipping to airports outside NC there are no sales taxes.
Do you have baby birds all the time or is it seasonal?
Yes, the breeding season is seasonal. Most pairs of birds start to lay eggs in spring or sometimes earlier. Each species is specific to their own seasons, some breed in late fall , some spring, some summer. We can have babies starting in march but we will post all available hatched babies on this site. However we do have many people who wish to reserve eggs before they are laid. We do not like to do this due to we never know if any certain eggs will be fertile. Many people ask us what will be have available the next day, we must stress this, what is available today may not be available tomorrow. As our babies are becoming even higher in demand, we do seem to sell out very quickly in the season.
Can I get my bird before its weaned and or before you say its ready?
No, No, No No need to ask. We are professional Aviculturists. if you are not willing to wait until we say its ready please do not try to purchase from us.
We only sell properly weaned healthy babies. This way we can guarantee the health of our birds 100%. We are the ones putting a full heath guarantee on the baby so its up to us when a bird is ready...We many times let a bird go home while on the night time feeding, there is no danger and we feel comfortable, on amazons we do this to help with the bonding to you, but the bird will still be eating on its own. cockatoos take longer to wean and we let them go a little early if the person can handle it. but the bird will be eating on its own and this feeding is for comfort only. Unweaned birds or baby birds needing critical care in the wrong hands can be dangerous for the birds life and this is totally unacceptable to us. Many customers ask us about purchasing babies while in the nest and or when they are very young to save money.....We know there are many "so called breeders" that do this, But its

wrong, wrong, wrong,

and unethical for ANY one to sell an unweaned baby needing this type critical care, knowing full well that you could not properly care for it, no matter how many minutes they teach you, it takes years to gather the knowledge, its also wrong for you to purchase a critical care baby just to save a few bucks and this may endanger the life of that bird. We are sooo glad that many states are now passing laws to stop the sell or possession of unweaned parrots at pet shops, bird shows and other places. We may sometimes let a bird go home when the bird needs maybe one hand feeding maybe once at night, but the bird must already be eating on its own to suit us and we must feel comfortable about it, otherwise we will not do it, period. Also when someone asks us about purchasing a critical care needs baby that is only a few weeks old just to save a couple dollars, this tells us something about that person as well.
we are the one that says when its ready NOT THE CUSTOMER!!!!!!
Most horror stories we hear comes from people who purchased a bird from some backyard breeder many times out of the nest box, bird shows or a sleazy pet shop and the baby was just too young or unweaned and needed critical care that you cannot give properly and the problems started and they lost the bird or stunted the growth or other health problems. Most people including some of these so called bird breeders do not have the knowledge to properly handfeed and do not have the right equipment for "properly" brooding and maintaining a baby bird. Some of these breeders will sell these unfeathered critical unweaned birds because they will not, or cannot purchase the needed expensive equipment so they sell babies to you as fast as they can before the real work and horrors begins on them. The next time they tell you how easy it is, HOW ABOUT THIS?...just tell them , that if its that easy, and if anyone can do it?...just keep it until its weaned and you will come back and get it for the same price, and watch the attitude change. We sometimes will let a baby go home when on one feeding, they do not need heat, or need brooders and they are eating much on their own or we do not let them go. So if you are looking for a discount bird from a discount breeder or dealer, we cannot help you...we are professionals and we produce only quality and we only sell quality premium babies that can give you a lifetime of companionship.
Our birds health and welfare will come first or no sale. Sorry....
Do you do anything to your birds to mark them, band them, micro chip them, etc. We do have some species micro chipped such as hyacinth macaw babies and other rare species but on most all species we band them only We close band every bird, some states require that parrots be banded or they will be confiscated, like New York. New York requires all pet birds in pet shops to be banded.
We use stainless steel closed coded bands with our CODE RBC and the birds number on each band.

Example: RBC NC B1000.
Can I send you special things for my bird before it comes home?
NO, We cannot accept outside things to be put into cages with the baby birds as we wean several birds together and we would not want that exposed to the other birds, Also we may not approve of some things, Especially the stuffed animals that many people try to use around their birds. These things are for one thing VERY unsanitary as they are made from cloth and get soiled. We use REAL bird toys that are made for the species. Also one thing is that many people may not realize that most parrots are chewers and those things will get chewed up and what if the birds ingest these products, like the filling. These stuffed animals are mostly from china as they are made cheaply and we do not know what the filling or the outside is really made from. When placing thee things in and around your large birds its just asking for troubles. Would you eat it, put it in your mouth, or chew on it?
Can I Ask you to Feed or not feed special foods to the baby.
NO, We feed the most advanced avian diet in the world HAGEN Tropican, This diet is actually the most researched and advanced avian diet available. HAGEN owns and operates the worlds largest breeding research facility, mainly for nutrition research and development . NO other company ever comes close to their research capabilities and expertise. Many diets today are just pet shop brand type foods where the Tropicana is more a Pro specialty avian diet. We have used them all and we had troubles with those other diets many years ago. We have a very strict feeding regimen and we feed what works. Our babies health speak for themselves. We have been professional aviculturists for more than 30 years. We deliver you a fine healthy guaranteed baby, what you do after that is your business, but we recommend that you listen to us and keep the bird on the diet plan we give you. Our diet plan is workable and researched by HARI-HAGEN AVICULTURAL RESEARCH INSTITUTE
Along with the TROPICAN granules we use many other items for weaning our babies, apple, corn, peanut butter on whole wheat breads with spirulina, small amounts orange. cheerios, and other items that are high in nutrients. We use these items as weaning foods only, when birds are weaned these wet fruits and veggies are cut back and a diet of HAGEN Tropicana granules is the base with HAGEN Tropimix as treats, Tropimix is dehydrated fruits, veggies, hulled nuts, coconut, papaya, other items. This diet is way more nutritious than the normal person could ever offer to their birds.
Our breeders have used these foods for years and we have the healthiest, most productive healthy breeding facility anywhere. While other so called breeders have constant health problems such as bacteria, fungal, soft shelled eggs, feather pluckers, birds that will not breed, malnourished and small babies, stress marks on the feathers, and other problems we simply just have eliminated these so called common problems with one thing, good food, proper care
FEEDING the correct food.
Some people just refuse to evolve and advance and they continue the practice of over loading their birds with fruits, veggies, Why? Because they were told that these items are good for the birds. They are good in moderation, when birds have a choice like a child they will eat what taste good, not exactly what is balanced, therefore the birds suffer due to too much water and fiber and not enough balanced base diet,. Birds need a proper balanced diet and when you feed these items freely it cannot be balanced.
We have a diet plan that works and has worked for many years without any problems. Infact our diet plan has increased our breeding and has totally eliminated all of the so called common problems that most other breeders deal with on a daily basis due to their bad diets.
For the long term good health of your bird we recommend you keep your bird on the plan. We include all the info on diets to you in the FREE starter food kit we send with each bird, we advise to keep the bird on the diet as much as possible. When you change the diet and later on you have problems and need advise about something we just cannot help you.

If its not broke, why try to fix it.

BUT you can do what ever you want once you own the bird, just remember what we said in the beginning.
Can i tell you to clip wings or not clip wings?
We do what we need to keep the birds safe, We will always do what we feel best for the safety of the bird. As long as the bird is in our hands and care, we will clip the babies wings slightly for safety, Baby birds tend to be active during the weaning and without clipping it is very dangerous as one can not control birds without being clipped while being outside the cages, We only do what we call a baby clip, this is clipping the least off to allow the bird to still be able to safely climb, balance, and if to fall or jump or attempt to fly they still can land safely. However after you get your bird you can do or not do whatever you desire, but just remember birds natural instinct is to try to fly, THEY ARE BIRDS..THEY FLY even if wings are clipped, that does not make them not try..so be careful if you decide to NOT trim wings, it may be a mistake, read our horror story from the front page. CLICK HERE>> OUR BIGGEST MISTAKE
I need cages, food and other bird stuff where do I find the right things?
I am local, Can I pick up my bird when its ready to go home?
Yes, When you are ready for purchase, You can make an appointment with Sheila for your time to pickup. We encourage this as much as possible. We give special considerations to pickups compared to shipping. Our babies are not exposed to people coming in and touching, When the babies are unfeathered they stay behind glass and cannot be touched by you or anyone else. This protects your baby from airborne pathogens and from dirty hands. We will also insist that you wash your hands here before any touching by you, also we insist that you change your clothes before coming here if you have visited other birds, bird shops, breeders that day or have other birds in your household.
These procedures and prevention programs ensures us our babies stay healthy and ensures you a healthy baby when its time to go home. Yes some people get insulted when we ask them to wash up here before handling their bird, but we do not care...it kind of shows us their attitude towards the safety of their bird, remember we do reserve the right to refuse sale to ANYONE that we feel is an inappropriate caretaker. Period..
What kind of birds do you breed?
We only breed specific species that we consider the best for human companionship, many species simply are not suited for this. Though there are many colorful and pretty birds and parrots out there and many are offered by some other breeders some of these birds offered just do not make a good companion, in our opinion.. We DO NOT Produce hybrids of any type. you can click here for the >> BIRD PAGE
How long does it take for me to get my bird ?
If the bird is weaned and ready and you have already made payment and after you receive the starter food package we can ship you the bird ASAP, we will make the airline arrangements for the times suited for the safety of the bird not for your convenience, we will try for everyone's convenience but it will always be for the best for the bird, OR NO GO.. No bird will be allowed to leave here until weaned or we feel comfortable that it is ready.

If you can not wait then try not to purchase, because the bird will not be allowed to leave here until we say so, because the birds well being is our only concern. Other wise no sale, sorry.
What will my bird eat when it comes home?
All our babies are weaned onto a very highly researched and advanced avian diet. We do not feed seeds. Although one of the weaning foods (TROPI MIX) has some seed in the mixture, though they are fully shelled, no waste or mess. The main base diet is HAGEN Tropicana Granules, this formulated food is the absolute best diet on the market.
FREE STARTER KIT: before we ship the bird...We send you a package starter kit that includes foods, treats, instructions for long term healthy care., etc. This free and complimentary package helps you get started off right. We include this free kit because we feel our babies need the best start possible and this way we guarantee that the baby will at least get stated off right.
The foods included in the FREE kit is what the baby is eating here.. We recommend that you keep your bird on this diet for the long term health of your baby. After receipt you can change to what you wish, but please remember when you call us in a few months, year or two and ask why does my bird look bad?, why does his feathers look poorly?, etc. Our first question is always "what are you feeding?"
If its not broke, why fix it?
We look forward to hearing from you and hope we can help you find a lifetime feathered companion for your family.
CONTACT 704-735-8601 SERIOUS INQUIRIES PLEASE,, We love our birds but we are very very busy as we operate a fully productive breeding operation, breeding over 100 babies yearly and it requires lots of work hours. We just do not have the time to discuss birds that we may not have available or to talk about a bird that you may be considering in the distant future. And we just do not have time to discuss a bird that you have purchased somewhere else, you would need to talk to a vet if its a medical question and a bird trainer if its a behavior problem..
We will be glad to discuss with you any bird that is available now and you are NOW ready for a new family member.